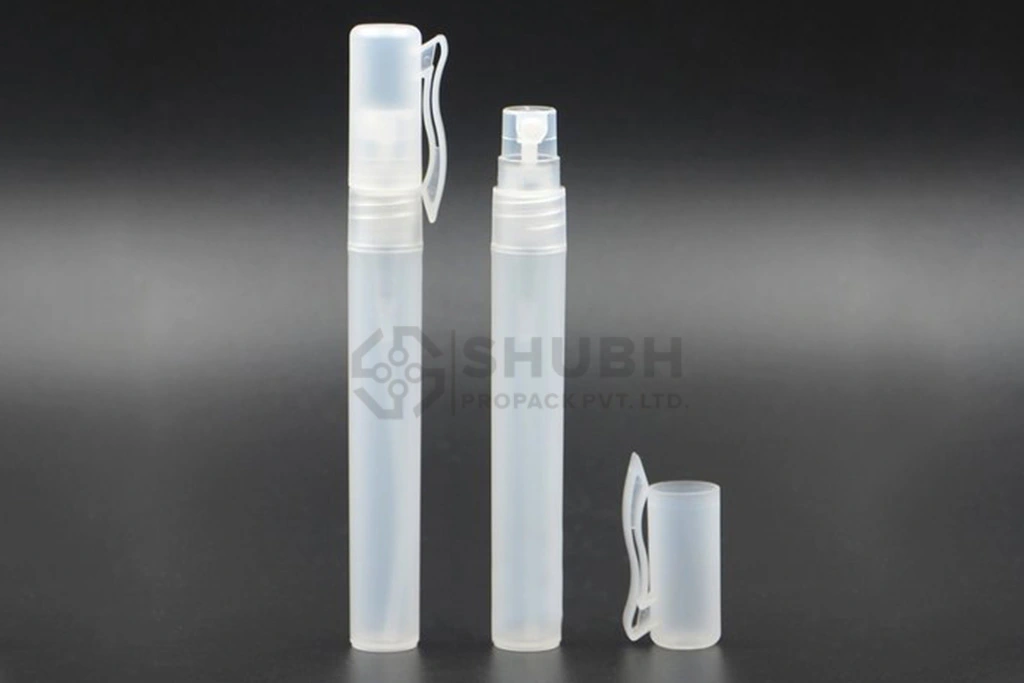 Specifications
Sizes 
35ml 
70ml 
90ml 
160ml 
500ml
Available Sizes for Glycerine 
45ml
90ml
190ml 
350ml
 
Available Sizes for Gulab Jal / Rose Water 
30ml
60ml
100ml
200ml 
500ml
Logo or Brand Printing on Bottles & Caps with High-End Quality
Features
| | |
| --- | --- |
| 100% Virgin PET Resin | Crack Resistance |
| Perfect Fitting | Impeccable Finish |
Especially Designed Pen Perfume Spray for carrying purpose, hand perfume & many more instant perfume applications
Aroma within pocket along perfect capping. You can get the perfect capping for you Fragrance from us.
If you are seeking for A pen perfume spray without any leakage. When, we want to take some liquid in our bags or pockets at this time the most specific point is it should not make wet our carrying stuff. It could be our bag or pocket as well.
Our packed Pen perfume spray are available with perfect fitting, capping. A good quality of plastic is used for your suitability. Our used plastic is so much of reliable.
We provide the Pen Perfume Spray in very elegant transparent packing. We are the provider of High-Quality perfume in Wholesale. Our Packing designs are exceptionally durable and stylish. While getting of our Pen Perfume spray, we worked on some specific points. We had designed it in very user-friendly way. We are much more concern about resistance for cracks.
Our Pen Perfume Spray can be used on very rough and tough basis. You can offer to your customers a very handy Pen Perfume Spray.  All they have to do only open the cap by simple rolling and pump out the spray and get their entire wanted Aroma, without any hassle of spilling issue.
We use the plastic of particularly good quality, which is noticeably light in weight and the capping come up with the sufficient tightening. Our spray pen packaging gives your spray pack very versatile look. That is so much of attractive and sophisticated.
Our Product Specifications:
Its Refillable has screw-on top with clip on cap. Pump spray with durable plastic and leak proof design.
Our perfume atomizer is made of high quality plastic, its drop-resistant, Highly durable, refillable and reusable.
Our perfume pen has fine mist sprayer, it makes the liquid spray evenly. Suitable to fill perfume and skincare water.
It's Great & Compact for traveling, take them to the gym, on a date or to leave one in car, on the party, in make-up kit, or use it as perfume sample bottle.